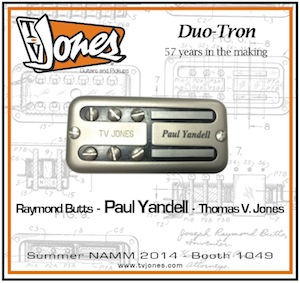 July 16, 2014
TV Jones Inc. Releases
Paul Yandell "Duo-Tron" Pickup
Historic collaboration between TV Jones and Chet Atkins' "right-hand man" now complete
Nashville, Tenn. – Legendary electric guitar and bass pickup maker Tom "TV" Jones is proud to announce the release of the Paul Yandell "Duo-Tron" pickup.
The project between Thomas "TV" Jones and Paul Yandell began in 2009 and upon Mr. Yandell's passing in 2011, Mr. Yandell's family reached out to Tom to complete the project. "The Duo-Tron," (as Mr. Yandell called the pickup while in development,) is a significantly historic pickup and is directly related to the very first patented "humbucking" electric guitar pickup, invented by close Yandell friend and legendary inventor, Mr. Ray Butts.
The unique and proprietary design links to Paul's earlier collaborations with Mr. Butts, whose initial concept is laid out in his original patent drawings, (No. 2,892,371, filed Jan. 22, 1957 and awarded June 30, 1959.)
After Mr. Butts' passing, Jones was bequeathed pickup parts, tooling and other items by Ray's daughter, Katha House and his grandson, James House. All items are housed at the TV Jones headquarters today.
Jones' world-class product line and stellar reputation in the industry - coupled with his close relationships with Yandell and the Butts family - were what provided the final impetus to bring the Duo-Tron to life.
The pickup was first unveiled last Saturday night from the stage at this summer's Chet Atkins Appreciation Society (CAAS) gala in Nashville, Tenn., July 12, 2014.
The formal press announcement was held earlier today at the Musician's Hall of Fame, also in Nashville. The Yandell family, Ms. House, Jones and special guests were present, including media from around the world.
The pickup features a combination of pole screws and blades across the string range that perfectly accommodates the fingerpicking techniques mastered by Atkins, Yandell and other greats. This design provides players of all genres with unprecedented clarity and attack across all strings.
"Remember, Dad designed this pickup with Chet in mind," said Yandell's son, Micah. "So the standard was pretty high to begin with."
Visually the Duo-Tron is stunning and features a proprietary finish unlike any other in the TV Jones lineup. Traditional plating options are available as well.
In a 2010 quote on the misterguitar.us forum, Yandell said about his design: "I'm always trying to think of something different … Chet always said the bars gave him a bigger note. It's balanced really well and the treble strings have a slight edge… it's something I've been thinking about building for some time."
"I know Paul would be so pleased," said his widow, Mrs. Marie Yandell. "Paul really wanted Tom to produce this pickup. He thought Tom was the greatest and just loved talking to him and working with him from the very first time they met. He was so impressed with Tom's creativeness and knowledge."
"The hallmark of the Yandell/Duo-Tron neck pickup," said Jones, "is that the player won't lose any sensitivity bending the treble strings. You'll notice a fuller, bolder response that affects both sound - and equally important – feel."
"On the bass side," Jones continued, "I've dialed in a tone directly reminiscent of Ray's original Filter'Tron - but with a touch more dynamic attack – it's a little more focused and rounded," continued Jones. "Remember, this pickup was developed by a master fingerpicker for none other than Chet Atkins. It has nice dynamic pop in the bass, and full-bodied tone for melody. The responsiveness of this pickup is really something to behold for players of other genres too – Blues and Rock and harder-Rock players will absolutely love it. Overall, the bridge pickup is well-balanced, with bold bass strings, and traditional slightly compressed treble strings."
From The Tennessean: …(Yandell) moved to Nashville from his home state of Kentucky in 1955 and started his musical career playing with the Louvin Brothers until 1959. After serving in the Army, Mr. Yandell spent most of the '60s performing with Kitty Wells, Johnnie Wright and worked for a year with George Hamilton IV. From 1970-'75, Yandell said he "went to college" by playing with Reed, which segued into his 25-year post as Chet Atkins' premier sideman.
"Nobody was closer to Chet than Paul," said Atkins' daughter, Merle Atkins Russell. "He was literally a lifelong friend, his right-hand man and a very dear friend."
Further honoring the deeply historic nature of this pickup, TV Jones Inc. enlisted the superb design services of Nashville's Hatch Show Print, commissioning a special poster commemorating the project. The special design will also be featured on each Duo-Tron box.
"Our firm would also like to acknowledge another incredible partner in this project – Hatch Show Print," said Jones. "There may not be any other firm that speaks so brilliantly and authentically in such a simple and beautiful way as do the great designers and staff at Hatch. When it came time to consider packaging – the visual essence of the Duo-Tron, not to mention the caliber of the men involved in its development - there was only one firm that could deliver, and that was Hatch."
In business since 1879 Hatch represents the pinnacle of wood block letterpress design and production. Their work documents generations of popular music, culture and more.
"The fact that they produce between 500-600 pieces per year is astounding," said Jones, "we are extremely grateful that they included us in their workflow."
The Yandell Duo-Tron, like all pickups in the TV Jones line, is hand-built by hand from the highest-quality all-American materials.
As stated above, the Duo-Tron will be available in a new, proprietary finish, as well as, chrome, nickel and gold finishes.
Mounting options are standard "no ears" and English mount.
Base Price: $150
Specs:
Neck 4.0 K DCR
Bridge 7.4 K DCR
"I feel a great responsibility to both the Yandell and Butts families. This is a truly historic project," said Jones. "I'm really excited to hear what comes back from players around the world with this one. Working with Paul and his family and the Butts family has been an honor."
To pre-order the Duo-Tron, please visit the company's website
http://www.tvjones.com
or call the company headquarters at 360-779-4002.
As Paul loved to say: "You know that's right!"
News and Notes:
TV Jones will be at the Summer NAMM show July 17-20, 2014 in Nashville (booth 1047) and will host a Demo Room Friday, July 18 from 1-2 p.m. Players are encouraged to visit and play all products in the TV Jones line and more – at up to stage volume.
Later that evening, TV Jones and Supro Amps are co-sponsoring a show at Robert's Western World in downtown Nashville featuring Chris Casello and his "Brazilbilly Reunion," from 9 p.m. until… late.
Known and respected throughout the music industry – across the globe and at all musical levels - countless players, manufacturers and custom builders trust TV Jones' unique and true sound in almost every type of guitar and genre of music.
Handmade in the USA with all-American parts, TV Jones has been transforming players' tone for over 20 years.
For more information, please visit
http://www.tvjones.com
or at 360-779-4002.