Masters of Fingerstyle Guitar DVD Bundle
Posted:
Tue Aug 05, 2014 12:56 pm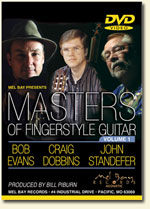 We have only a few of these left, as they're no longer in print. This Mel Bay DVD features
Bob Evans
,
John Standefer
, and myself. Both John and I are, of course, heavily influenced by Chet.
The list price is $24.95 plus shipping, but we're bundling an enhanced CD with audio, lessons, and pdf tab for 3 of the 4 tunes that I play on the DVD:
Anytime
,
Through the Tears
, and
Nothing But the Blood of Jesus
.
The DVD/CD Bundle is only $16.95
including shipping
.
http://www.craigdobbins.com/dvd-bundle.html
Craig
Here's a video clip of me playing
Anytime
.
http://www.melbay.com/Content/Site161/F ... 035180.mp4