Dear friends-
I am honored that the Yandell family has asked me to announce the release of a new retrospective collection of Paul's music,
Paul Yandell C.G.P. - Down Through The Years
.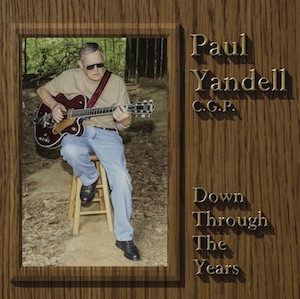 This CD includes some great Yandell originals that have been unavailable for several years, including:
Going Home, Munich Memories, Lazy, Within My Heart, Relaxin', Laying Back, Chet-Lite, Trickey, Odie and Me, Kentucky Lullaby, Clear Springs Blues, Forever Chet, I've Been Lucky, and Clear Springs Rag.

Marie and Micah will have copies available at CAAS next week, and the CD will also be available from Paul's website.
http://www.paulyandell.com
Thanks,
Craig