Micah Yandell (Paul's son) asked me to post this photo of Paul's CGP award.
Craig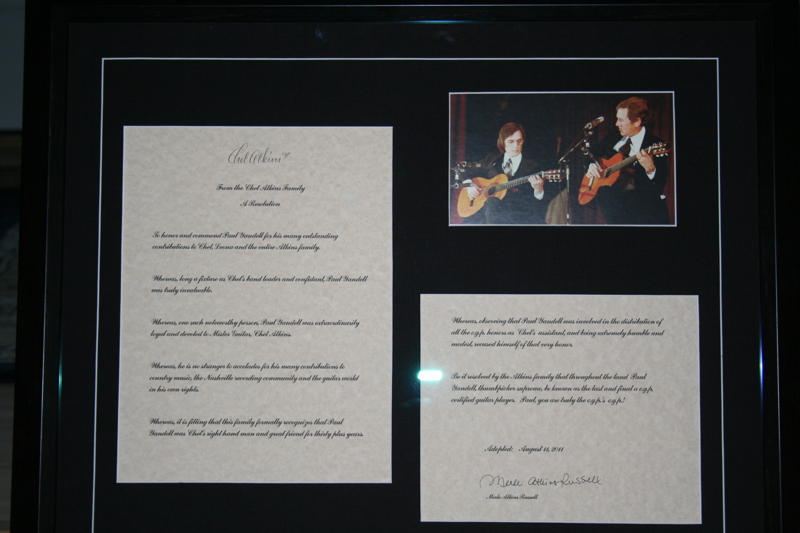 http://www.craigdobbins.com/yandell-cgp.jpg
Posts: 628
Joined: Mon Aug 16, 2010 8:59 pm
---
Thanks for posting this, Craig! And thanks to Micah for getting it to you!

By the way, I just renewed my AGW subscription.

Bill B.
Posts: 594
Joined: Thu Jul 15, 2010 5:44 pm
---
Posts: 628
Joined: Mon Aug 16, 2010 8:59 pm
---
Craig,
Anyway you can type what it says? I can't see the words very well.
Phil
Posts: 668
Joined: Tue Aug 17, 2010 9:06 am
---
As for the wording on the plaque, this is what Caryn Wariner sent me:

Whereas, long a fixture as Chet's band leader and confidant, Paul Yandell was truly invaluable.

Whereas, he is no stranger to accolades for his many contributions to country music, the Nashville recording community, and the guitar world in his own rights.

Whereas, observing that Paul Yandell was involved in the distribution of all the c.g.p. honors as Chet's assistant, and being extremely humble and modest, recused himself of that very honor.

Be it resolved by the Atkins family that throughout the land Paul Yandell, thumbpicker supreme, be known as the last and final a c.g.p., certified guitar player. Paul, you are truly the c.g.p.'s c.g.p
Tom Redmond
Posts: 226
Joined: Tue Jul 06, 2010 10:08 am
---
Wow! That couldn't have been said any better.
Posts: 570
Joined: Mon Aug 23, 2010 7:24 am
---
Thanks Tompicks!
Ronnie Evans
Posts: 448
Joined: Tue Aug 17, 2010 11:15 am
---
Posts: 764
Joined: Mon Aug 16, 2010 9:16 pm
---
It's been quite a week for Chet and myself Merle Atkins Chet's daughter along with the Atkins family gave me the biggest surprise of my life I can't say how I felt , the HOF has done a 96 page book about Chet and it is the best thing I ever seen on Chet it is $19.95 everyone should get one, Fred and Dinah Gretsch has done a great thing for Chet to keep his legacy alive if you have a chance to see it please do you will never forget it, thanks to all of you for being my friend, paul y cgp
Posts: 54
Joined: Mon Aug 16, 2010 11:11 pm
---
That cgp looks good after your name.

Craig
Posts: 628
Joined: Mon Aug 16, 2010 8:59 pm
---
Who is online
Users browsing this forum: Baidu [Spider], Taffy White and 4 guests